Main Characters
Edit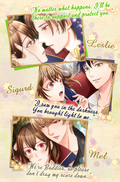 "A mysterious voice calls for your help... The Bow of Sol Maiden brings the light to the darkness..."
"The academy is filled with vivid energy... Sol Felia is held once every four years during the leap year. However, the sun starts to dim day by day. Chosen as a Sol Maiden, you save the academy with your Buddy!"
Note: Mel's Main Story reveal hidden truths. Is recommend to read Leslie and/or Sigurd's Main Story first.
This section lacks information. You can help Wizardess Heart Wikia by expanding it.