"Make a Date" is a reward system in Wizardess Heart+ which allows players to exchange consumable "Romance Points" for a prize. Romance Points are earned through Extra Curriculum, through events, or purchased in the Item shop.
Older Version
Edit
Each romanceable character has his own set of Make a Dates, featuring different avatar items. Upon first playing a route, only the first tier of Make a Date is available. Other levels of Make a Date are unlocked by playing through the chapters of the story. They are accessible even after you are done with that character.
Each Make a Date has its own avatar items that can be earned. You cannot earn doubles of these, so long as they are in your dresser, or your gift box. Other prizes include Lune, Story Tickets, Love Meter boosts, treats to replenish Extra Curriculum stamina, or more Make a Date points.
Each day, one play of the lowest tier of Make a Date is free per character.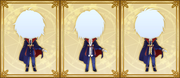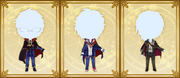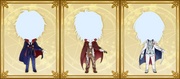 Consumable Item Rewards
First Tier
Lune x 50
Lune x 100
Lune x 150
Lune x 200
Story Ticket (¼)
Aruenaristy (¼)
Yukiya's Favorite Cookie
Second Tier
Lune x 300
Lune x 350
Lune x 400
Lune x 500
Elias' Classic Muffin
Story Ticket
Third Tier
(all possible second tier prizes)
Romance Point (+500pt)
Magic Grade (+500pt)
Fourth Tier
(all possible third tier prizes)
Dresser
Aruenaristy
Elias, Luca and Yukiya - Make a Date
Klaus, Randy and Azusa - Make a Date
Joel, Vincent and Leon - Make a Date
Cerim, Guy and Glenn(coming soon) - Make a Date
Note: Glenn was the final character for the Make a Date system. Any new character after him does not have a Make a Date.
New Version
Edit
Starting form February 09, 2018 the game changed the Make a Date system to a new one that divides in Female Attire and Male Attire with some of above listed avatar items. The "Male Attire" make a date Levels 1, 2 and 3 have exclusive items from events.
The Make a Date "Female Attire LVL 1" is Free once a day.