The Spin-off Decision Making happened between Nov. 20 and Dec. 08 from 2017.[1]
Event Announcement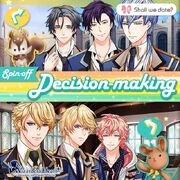 "[Shall we date?: Wizardess Heart+ #498] Gedonelune Academy's Journal
-Event Announcement by Elias, Joel, Sigurd, Klaus, and Cerim-
Elias: 'There is no doubt that I am the one who loves her the most.'
Joel: 'You are wrong. I love her truly and honestly from the bottom of my heart.'
Sigurd: 'Guys, I can't possibly let someone have her.'
Klaus: 'We shall set a match to see who suits her the best.'
Cerim: 'Sounds good.'
The time for Decision-making has come! Witness the moment that decides the best man for you...!" [1]
Rewards
Room/Garden Items
Edit
I-am-yours Eyes (Room)
Headband with Side Bows (Room)
Scale of Judgement (Room)
Double Pigtails -Yellow-green- (Room)
Cheering Team -Taffy&Ronny- (Garden)
Present-themed Dress Set (Room)
Room/Garden Items
Edit
Fancy Pirates Outfit Set -White- (Garden - Boy Avatar)
Fancy Pirates Outfit Set -Gold- (Garden - Boy Avatar)
Mermaid Dress Set (Room)
Bitter Prince Set -Black- (Garden - Boy Avatar)
Bitter Prince Set -White- (Garden - Boy Avatar)
Melting Sweets Dress Set (Room)
Magical Artistic Night Outfit -Black- (Garden - Boy Avatar)
Magical Artistic Night Outfit -Light-blue- (Garden - Boy Avatar)
Cool Muse Dress (Room)
Decision-making Photo -Elias&Joel-
Decision-making Photo -Klaus&Sigurd-
Decision-making Photo -Randy&Cerim-
References