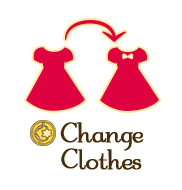 Like most dating sim games, you have an Avatar System in which you use not only to personalize your own character but also to pass some checkpoints to progress in the story.
In Wizardess Heart+ the avatar system is divided by Room and Garden and you can acquire new items for them by using: the in game Currency, the Make A Date system, by completing some Missions, winning the items in events or, for example, from Shall We Date? Facebook - Like & Share campaigns.
Items equipped on your avatar will appear in both Room and Garden on your screen view.
When first playing the game, you start with the same default MC as everyone with only few options to personalize being between: 2 ribbons, 2 eye colors and 2 bags. After you finish the prologue you are able to personalize you character as you wish.
To have more space for new Room items you will need more "Dressers" and you can acquire it the same way as other items.
Each item on both Room and Garden will give you a different "Charm Level". The more Charm Level the more easier will be to play the Extra Curriculum.
After choosing one of the romaceable characters from the game, his avatar will be available to stand beside yours in the garden area. You can only change between the romanceable avatars after you have played their route at least once.
To have more space for new Garden items you will need more "Storage" and you can acquire it the same way as other items.
The same default Avatar/Doll base is used in others games from the Shall We Date Series, like Oz+.
Some items are repeated as well but generally with different colours.
Players are able to change the boy that appears with their character on their avatar without changing the route that they are currently on- simply by clicking 'Decorate Garden', followed by the white 'Change' button on the right side of the screen. Players are then allowed to choose which boy appears with their avatar without their current route progress being effected.
Ad blocker interference detected!
Wikia is a free-to-use site that makes money from advertising. We have a modified experience for viewers using ad blockers

Wikia is not accessible if you've made further modifications. Remove the custom ad blocker rule(s) and the page will load as expected.